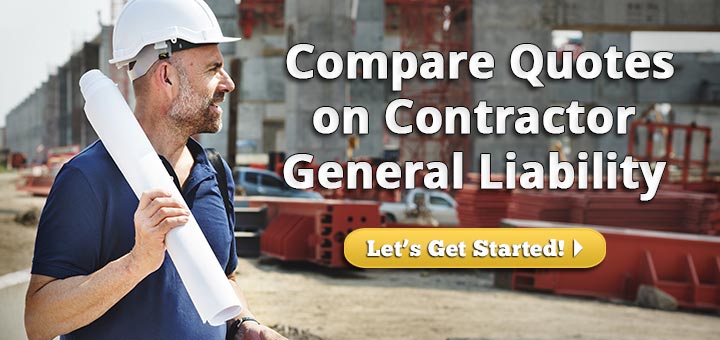 Save big by letting three agents bid on your general liability insurance

General Liability Insurance for Contractors
You do good work for your clients, but disagreements are know to happen. When they do, you need contractor general liability insurance to protect you from lawsuits. General liability insurance covers contractors from things that can happen on and off the worksite. If someone is hurt onsite, GL pays for their medical bills regardless of whose fault it was. If a customer is unhappy with your work and sues you, general liability pays for attorney bills and whatever settlement you reach. It covers against libel, slander, and other things you'd never imagine someone would accuse you of. Basically, GL coverage keeps a contractor's business safe from lawsuits, both warranted and otherwise.
How Much Does General Liability Insurance Cost?
After you talk to an insurance agent, they will look at your information and build a quote. Different trades cost different amounts to insure. For example, HVAC guys are cheaper to insure than roofers. It's impossible to know exactly how much you'll pay, but we can give you a rough estimate. Small business owners with fewer than ten employees can expect to pay between $650 and $1500 for general liability coverage.
Since so much goes into calculating your cost, it's in your best interest to compare quotes from several agents at once. There are tools online that have made this easy. Fill out one free quote form and you get fixed up with three GL insurance agents who will compete for your business. They each build you a quote, and you choose the one that works best for your business.
Who Needs Contractor General Liability Coverage?
You probably have a few questions about GL coverage. Are general contractors required to get it if all their subs are covered? Do handymen need it? What about unlicensed contractors or owner-builders? Contractors are often confused on the general liability requirements of their area. Your agent will clear up most of these questions, but there are a few guidelines to go by.
General contractors will almost always need general liability insurance, even if all their subcontractors are covered.
In most places if you want to get a trade license, you'll need GL. This applies to carpenters, plumbers, electricians, landscapers, painters, masonry contractors, and everyone else.
Most bigger projects require subcontractors to get general liability. The typical GC won't contract subs who don't have it.
How to Get a Cheaper Quote on GL
Insurance is a major source of overhead for contractors. You should do everything you can to save a buck or two.
Pay your whole premium upfront – Insurance companies will often offer discounts to business owners who pay their premium at the beginning of the year instead of month to month. You can get up to a 10% discount by paying this way.
Re-shop your policy regularly – If you use an independent insurance agent, he typically has access to several insurance companies with different prices on insurance. Those prices fluctuate. Sometimes it helps to shop your policy around every few years to see if you can't get a better price.
Choose your limits carefully – Your limit is the maximum amount an insurance company will pay out after a claim. Policies with lower limits are less expensive than policies with high limits. But if you opt for a lower limit, you put yourself at financial risk for large catastrophes. It's a balancing act.
Stay safe – Contractors who get into a lot of accidents will pay more for insurance. You must emphasize safety to your employees continually. And when you see them doing something dangerous, you need to discipline them. It's ultimately your responsibility to stay safe.
Comparison shop – The only way to know you're getting the best deal on general liability insurance is to talk to several agents. We can help by getting you in touch with three at once. They compete and you save.