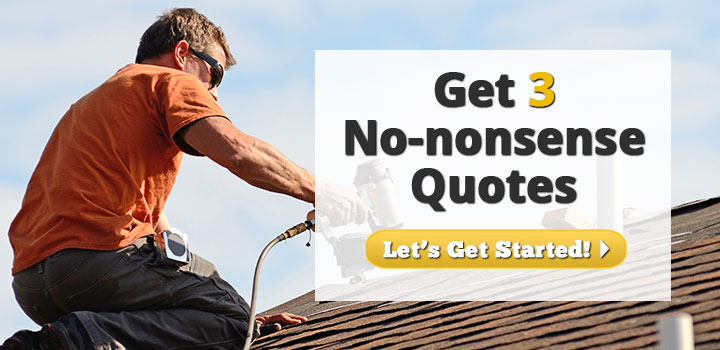 The only way to ensure you are getting the best deal on general contractor insurance is to get multiple quotes. We can help by bringing 3 agents to compete for your policy.

How much does general contractor insurance cost?
The cost of construction insurance depends on the size of your company and the size of the contract. Single-man companies usually cost less than $1,000. Larger companies cost more. Generally, an insurance policy runs about 4% to 8% of the total value of your projects. So for every $100,000 a project is worth, your insurance will cost between $4,000 and $8,000.
That's looking at it from a project-by-project basis. If you're a smaller company or a sole proprietorship, it might be better to try to calculate the cost of your general contractor insurance by looking at which policies you choose to get.
| | | |
| --- | --- | --- |
| Coverage | Yearly Cost | Description |
| General Liability | $400 –$1000 | The most common insurance for general contractors. Covers lawsuits arising from customers sustaining an injury on your property, having a problem with your work, or from property damage. |
| Inland Marine | $500 – $750 | Protects your equipment and supplies. It will replace stolen or damaged items. |
| Commercial Auto | $1500 –$3000 | Coverage for any work related vehicles you use while on the job. |
| Surety Bond | $100 – 350 | Pays you in the event that you fail to complete a project according to the project terms. |
| Umbrella Policy | $1000 – $2000 | Covers you in case you have to make a claim that exceeds your insurance limits. |
| Commercial Property | $250 – $1500 | Covers your place of business from vandalism, theft, fires, and weather damage. |
| Workers' Comp | $5000 – $7500 | Covers injury or death of employees while on the job site. |
So a general contractor insurance policy with general liability, business owners', inland marine, commercial auto, umbrella coverage, workers' comp, and commercial property will typically cost somewhere between $10,500 to $17,000 a year.
What determines the cost of your policy?
In addition to which coverages you choose to get, a lot of factors play into how much your policy ends up being.
Size of your company – The primary determinant of your price is the size of your business. The higher payrolls and larger projects will contribute to a more expensive policy.
Type of construction you do – Do you do residential work or commercial? It matters. Smaller structures are often cheaper to insure against.
The property you work on – If there are expensive existing structures located on your work site, the price of your insurance will rise.
Your building materials – The type of materials you use contributes to your overall rate.
Time Elements – The shorter a project takes, the cheaper your insurance will be.
Your location – Where you live impacts your rate. If you work within a flood plain or in an area that is prone to severe weather, you can expect slightly higher rates.
Deductibles – Your deductible is the amount you pay after a claim. A higher deductible will nab you a cheaper premium.
Claims History – This one's a no-brainer. The fewer accidents you've been in, the less expensive your insurance.
How to get a cheaper policy
Bundle Coverage
Almost every construction company requires General Liability Insurance. If you have more than one worker, you'll need workers' compensation. If you use any vehicles, you'll need auto insurance. The best way to buy all these coverages is by bundling them together. An insurance agent can strike you a deal if you go through him exclusively for your insurance.
Pay Up Front
Insurance companies are paranoid by nature. They like to know you're going to pay them. They'll take a percentage off your overall bill if you agree to pay your entire premium up front instead of piecing it out month to month. If you can afford paying like this, you should. Everyone wins.
Commit to a safety training program
The cheapest insurance policy is the one you never have to use. It makes sense then to install a tighter safety program that your workers follow more closely. If you prevent accidents from happening today, your premium won't go up tomorrow.
Shop around
The best thing that a construction company can do to get the best rate on insurance is to shop between multiple insurance agents simultaneously. When you comparison shop, you have a better idea of what offers are available to you. We've made shopping around easy. When you fill out one simple form, we connect you with three agents who understand general contractor insurance. They compete for your business and you choose the quote that works best for you.