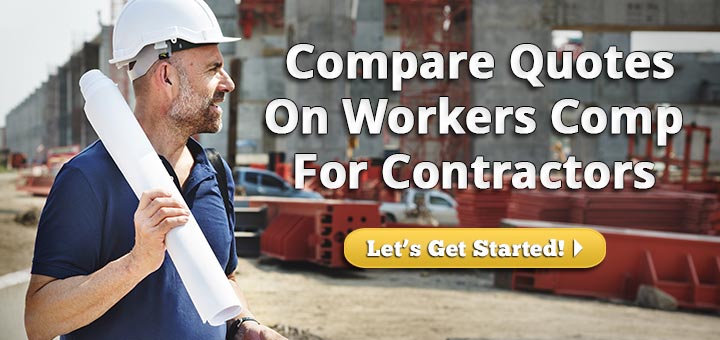 Save big on workers comp when you let three agents bid for your business

Get Contractors Workers Comp Insurance
Workers compensation is designed to protect contractors and their employees. If an employees is hurt on a jobsite, workers compensation pays for his medical bills and time off. It doesn't matter whose fault it was. It doesn't matter how serious or trivial the injury is. Workers' comp pays for it, and the contractor don't get sued.
Once a contracting business reaches a certain size, it is required to get workers compensation insurance for all its employees. Different states have different requirements. In most states, you must have workers comp with just a single employee. Other states are a little more lenient. You can read about your state's requirements on the NFIB website.
For people who work in offices, workmans comp is pretty cheap. For contractors, not so much. Your guys are on their feet all day, moving around, liable to get hurt. The construction and renovation industries see more accidents than almost any other sector. As a consequence, your workers compensation will be a little pricier. That's why it's so important to shop around. The more insurance agents you talk to, the more likely you are to get the cheapest policy. We can help. We connect you with three insurance agents who build workers comp quotes for contractors. They compete for your business and you pick the agent who works best for you.
How Much Does Workers Compensation Cost for Contractors on Average?
Workers' comp is paid as a percentage of your total payroll. If your insurance agent gives you a rate of $5.00, you have to pay $5 for every $100 you do in payroll. So, say you pay your workers $10,000 during one month: you will owe $500 to the insurance company that month for workers comp.
How much your rate ultimately costs will depend on your trade — insurance agents look at the type of work you do and then calculate your price. Some trades are riskier to insure than others, so their price tag will be a little higher. Plumbers get into fewer accidents than roofers, so their worker's compensation insurance cost is cheaper.
Overall, the average cost across all trades is about $9 for every $100 in payroll. We've broken it down further by trade.
| Primary Trade | Avg Cost / $100 payroll |
| --- | --- |
| Electrical | $4.26 |
| Carpentry (residential) | $13.83 |
| Carpentry (commercial) | $10.84 |
| Excavation | $7.74 |
| Cleaning | $4.83 |
| Wrecking | $8.82 |
| Drywall Installation | $8.62 |
| Roofing | $24.82 |
| Plumbing | $5.58 |
| Concrete Work | $6.57 |
| Painting | $9.11 |
| Street Paving | $9.38 |
How Is WC Cost Calculated?
Above are the different rates for different trades. But those numbers are just the base levels. If your business sees 20% fewer accidents than the average, you will pay 20% less for insurance. This is one way insurance agents calculate your overall price. They also look at other factors:
Your business experience
Your credit history
Where you live
Your limits and deductibles
It doesn't matter what you are — electrician, carpenter, plumber, landscaper, painter, mason — your insurance agent will look at all these factors when building your quote.
How to Save on Workers Comp
Shop around
The single best thing you can do to get a cheap WC policy is to get a few quotes from different sources. Your hard work now can save you thousands of dollars in the long run. And we've made combing through different insurance agents a little easier. We can get you in touch with three insurance agents experienced in insurance for contractors. They compete for your policy and you choose the cheapest plan.
Stay safe
One way to avoid losses is to teach your employees safe working habits. Safety is a skill. It's something you have to train into your employees. They might gripe about it, but in the end, you're protecting them and saving on workers comp premiums.
Bundle coverage
If you own a contracting business, chances are you'll need more insurance than just workmans comp. You'll probably need general liability. You'll need auto liability if you have any company vehicles. When you bundle all these policies together through a single insurance company, you will be rewarded with a discount. A lot of new small business owners think they can get the best price by picking and choosing coverage from different companies, but usually this is just a waste of time and it's more expensive.
Pay your premium upfront
Your insurance agent will give you different payment options. Month to month. Quarter to quarter. Year to year. Always go with the fewest payments. When you pay your premium in a big chunk at the beginning of the year, you get another discount.